This is my review of the best running shoes for knee pain.
Whether you are already experiencing mild knee pain or are just looking to prevent it from happening to you, you made the right call.
Your health is your most important asset. In this review, I am going to share with you the shoes that I consider when it comes to preventing or reducing the intensity of knee pain.
If you're already experiencing knee pain, I advise you to consult your orthopedist so that you can get your tissue fixed then work on preventing it from happening again.
Done? Then let's proceed.
My Best Running Shoes For Knee Pain
10 Best Running Shoes For Knee Pain Reviewed
Best for: Overall
Shoe category: Stability
Cushion level: 4/5
Shoe weight: 10.6 oz
If you haven't been injured or successfully recovered from an injury but still feel pain when or after running, the lack of support on your shoes might be the reason behind the pain.
Being categorized as a stability shoe, it can only mean: high-medium arches are welcome, heel strike to toe-off transitions are much smoother and your stride is guided with perfect arch support.
The drop affects how your foot strikes the ground, and this shoe features a 12 mm drop. Not sure what that means? It means your heel can land on a lot of cushions, this way reducing the amount of stress that would be applied to your Achilles tendon.
The midsole is good indeed as it provides perfect balance and comfort, but what about the outsole? Many of the complaints regarding these sneakers have to do with the outer sole which is made of rubber, most users claim that these sneakers lack reliability by wearing out very fast.
These shoes are very light, weighing only 10.6 oz, and this feature makes them suitable for long-distance, road, and treadmill runners. The presence of support and cushioning combined with its lightweight greatly impacts when it comes to reducing stress to your joints.
---
Best for: Best Cushioned Support
Shoe category: Neutral
Cushion level: 5/5
Shoe weight: 10.9 oz
Did I just say that the previous shoes have good cushioning? That's because they. But can you imagine what happens when cushioning is taken to the extreme level? Don't you? If you grab one of these Hokas and you'll surely feel me.
The thick midsole layer on this shoe is made of EVA foam, so your landings are more than guaranteed to be smooth and no stress will rattle your joints. Do you know what that means right? You guessed it right, "adios knee pain".
The rockered midsole that this shoe feature helps to transfer the movement from landing into toe-off since by doing this you will be lunging forward, your knees will be less worn. All these features ease the pain caused by high-shock landings, and this is unarguably one of my best picks when it comes to preventing knee pain.
The 4 mm drop on these sneakers isn't an issue since there's barely a hard surface in these shoes. It is cushioned from toe to heel.
Whoever buys these shoes, will be buying them because of the cushioning and support. But believe me, hence this feature is good for relieving the pain on your knees, not everyone will get used to that thick midsole, with some reporting to feel unbalanced.
But at the end of the day, it all comes to personal preferences and habits. If you think you can quickly adapt, I recommend this for that ultra-comfy feel.
---
Best for: Best Shock Absorption
Shoe category: Stability
Cushion level: 4/5
Shoe weight: 10.1 oz
These shoes are extremely light and the level of cushioning on these match the Brooks Adrenaline GTS 20, and the flytefoam tech in these sneakers provide a springy bounce on every stride, reducing the amount of stress applied to your joints which translates to knee pain prevention.
When it comes to shock absorption, Asics have improved their GEL technology design in the heels. This new improvement provides better comfort and shock absorption than the competition while also gaining greater forefoot flexibility.
Another cool feature in these shoes is the DUOMAX and TRUSSTIC SYSTEM technology in the midfoot, which is Asics solution to keep your feet stable and prevent twisting, this way providing a safe and efficient run.
The upper mesh provides breathability, this means no more wet runs. With air flowing through the shoes, you are less likely to sweat, and if you avoid moisture, you're on a good path to avoid blisters. [1] This is such a good option when it comes to the combination of comfort, support, and safety.
---
Best for: Overpronators
Shoe category: Stability
Cushion level: 5/5
Shoe weight: 13.5 oz
Overpronators should consider stability or motion control shoes. In most cases, a stability shoe fits the purpose since they take the weight off the ball of the foot, which is important for people with knee pain. [2] You might want to consider the motion control shoes if your case is severe.
The New Balance 990v5 is a stability shoe that provides a little extra arch support. The arch support helps to maintain the ankle in a more neutral position, reducing pressure and stress on the knee joint.
This shoe features a good level of cushioning, and you don't need to teach yourself to get used to it like what happens with the Hoka One One Bondi 6. Extra cushioning in the shoes provide support and minimize knee pain.
Did I just say before that these shoes are very well cushioned? That's because they are. But there's a catch here, the midsole is made of EVA foam, and this translates to a short life for these shoes in hot weather.
Compared to many shoes from its category, these are a bit heavy. But overall, they are a good combination of support, cushioning, and flexible sole.
---
Best for: Most Comfortable
Shoe category: Stability
Cushion level: 5/5
Shoe weight: 9.6 oz
Hoka seems it likes to get its cushions maxed out. But one of the key differences between these Arahi 4 and the Bondi 6 is their categories. The Arahi 4 is a stability shoe whereas the Bondi 6 is neutral.
On digestible language, this simply means that the Arahi 4 provides stabilizing features that help offset excessive pronation, or the inward rolling of a runner's feet after impact with the ground. Excessive pronation can lead to injuries like patellofemoral pain (knee pain).
The support is breathable, so the air keeps flowing to keep your feet cool and avoid moisture. This translates to a huge benefit when it comes to preventing blisters.
These shoes are well-suited for the runner who has wide feet, low to medium arches, and wants to run for long or shorter distances on roads or paved trails but keeping their knees away from pain.
It's all fun and games before complaints start to drop in. However, the most common issues reported by users of these shoes are their durability and fitting issues, with some reporting to be larger than expected and others, narrower.
Regarding the fitting issues, if you take your time on proper due diligence this might not be your concern.
---
Best for: Lightweight
Shoe category: Neutral
Cushion level: 3/5
Shoe weight: 7.3 oz
These shoes are lightweight! Other than that, I don't think they can add more juice to the mix. Being lightweight, means they are usually more flexible and breathable than heavy ones.
Research found out that the less the weight of the shoes, the more the runners' muscles face stress to compensate. These shoes are clearly not intended for long-distance runs.
However, if your goal is to train faster, these might serve the purpose. Being neutral it means they have got your high arches supported so that your arches and ball of the foot don't stress with too much weight.
These shoes have a curved design that feels soft on the under-foot. This feature enables the shoes to support more speed and flexibility while reducing the risk of pain.
The other drawback of being light is that you may feel each dent on the road, which may lead to a very unpleasant and uncomfortable experience. If training at a faster pace is not your top goal you might want to consider a heavier option.
---
Best for: Wide Feet
Shoe category: Neutral
Cushion level: 3/5
Shoe weight: 10.4 oz
With running shoes, you don't want your shoes to be fitting too tight. When people land, they need a little bit of room in front of their toes for their feet to spread out and even move forward a little bit as they stride and land.
To have wide feet isn't an issue. I don't think the size of your feet can cause your knee to pain or not. The problem lays when the size of your feet causes you to have bad form, whether you're walking or running.
For example, some people who have wide feet tend to have flat feet, and flat feet can cause overpronation, and overpronation can cause knee pain. But the good news is that most people tend to have a neutral foot, so there's no need for extra support.
These Brooks Ghost 12 are mid-level cushioned shoes that have a good variety of widths. Most people are likely to find the right width for their feet within these shoes.
The amount of cushion and fitting that these shoes feature is just fine for comfortable long runs, and this is where they excel.
The one downside of these shoes might have to do with their lifespan. Some users report premature wear on these shoes. However, I think that has a lot to do with how each one takes care of the shoes and the conditions to which these shoes are applied.
---
Best for: High Arch Support
Shoe category: Neutral
Cushion level: 5/5
Shoe weight: 7.8 oz
It is imperative to look for comfort in high-arch running shoes. Usually, the arch is a natural shock absorber, but when that ability is taken away by a rigid high arch, that's where the problem lies, because the foot won't be able to flatten as it contacts the ground.
Saucony Endorphin Speed is very well-cushioned shoes, and they also include high arch support in the insole, meaning your joints are less likely to hurt as most of the pressure is distributed across the shoes.
Being neutral will help with supination through the cushion that supports the arch.
The other thing that you need when looking for shoes that support high arches is enough room for your arches and toes, and this homework was done by the team behind Saucony Endorphin Speed.
As with other shoes that feature a maxed-out cushion, you may need an adaptation time to get used to these shoes. The higher heel stack may feel unstable in lateral movements during those few initial miles on it.
---
Best for: Budget, Regular Training
Shoe category: Stability
Cushion level: 3/5
Shoe weight: 11.2 oz
Although the Gel Venture is well suited for off-road, it can also be suitable for road conditions.
These shoes feel very comfy and supportive. Being stability shoes means they do provide supportive elements for overpronators, but these features are not very accentuated, so neutral runners won't feel uncomfortable when sporting these shoes.
The shoes' cushioning helps with shock absorption and allows for a smooth transition, your knees are safe. The inserts are removable so that if you need to use a custom insert for a special condition, you can do that with ease.
For their price, I think these shoes are solid enough when worn on not so harsh conditions. However, most of the complaints regarding these shoes have to do with their reliability, with some people reporting they don't last enough.
---
Best for: Daily Trainer
Shoe category: Neutral
Cushion level: 3/5
Shoe weight: 9.9 oz
If you're a casual-to-intermediate level runner who sometimes experiences occasional knee pain, it's a good idea to consider these shoes.
The Fresh Foam cushioning delivers a plush ride, while Ultra Heel technology provides a seamless, secure fit to help keep you locked in. This is where the magic happens when the gold is to protect your knee because most of the shock is absorbed by the midsole instead of stressing your knees.
With only 9.9 ounces, these shoes are considered to be very light and stylish enough to go from the morning miles to the rest of your day in comfort and style.
If your foot is flat, I wouldn't advise purchasing these. Even swapping out the factory insert for custom orthotics doesn't seem helpful enough as your foot might collapse extremely inward, causing pain.
Fitting may be an issue, make sure you pay closer attention if you decide to order.
---
Guide To Buying The Best Running Shoes For Knee Pain
Clearly, you're not looking for any kind of shoe that you can just wear and move on. Your condition, the knee pain, brought you here.
Hence my research allowed me to round up the best running shoes for knee pain, I think you deserve to equip yourself with the proper knowledge to make the right decision.
When selecting a good shoe for your knee pain, you'll need to pay attention to several factors.
Cushioning
The midsole cushioning is designed to act as a shock absorber. When running, at each heel strike, your body applies force generated by body mass to the ground, and the ground returns the same amount of force to keep you balanced.
Your body has enough tissue that works as shock absorbers reducing the amount of shock that is sent to your joints. But there are situations where just relying on your body and expecting it to do all the hard work isn't a viable solution.
Just like any tissue or material when subjected to overuse, it tends to wear out. That's why it's always a good idea to get an extra layer to handle the hard work.
Properly supportive and appropriately cushioned running shoes can help to dampen the repetitive loading stresses of running.
The midsole material is designed to minimize the impact shock of a heel strike. The need for good cushioning doesn't necessarily mean that you have to go for the highest level of it as it can also impact your balance while running.
You have to aim at a proper balance between the cushioning, stability, and ground feel.
Even though your body mechanics provide all the necessary support for the forces of your stride, the forefoot cushioning still plays an important role when it comes to reducing the impact of these forces and propel your foot.
The shoe must be able to be responsive enough according to your running conditions. You've to look for a balance between cushioning comfort and a firm push-off platform.
Natural Positioning
You want to keep your foot as close to its natural position as possible. For example, when the heel of your foot is raised higher than your toes, your weight-bearing line tips forward, and that's unnatural.
This means your quads will have to work harder to hold your knee straight.
You'll have to choose shoes that mimic your biomechanical structure in its natural state, by keeping your heels low, or flat when compared to your toes' position.
Shoes can change the position of your feet, and if they are not properly positioned, the amount of pressure inside the knee joint can increase as you perform any activity.
The way your knee joints are positioned can be affected by your shoes, for good or for bad, depending on how you choose them.
That's why proper positioning is important!
Your shoes have to look nice and stylish indeed, but sometimes depending on your condition, you have to sacrifice the looks for the greater good, your health!
The more stable and natural an option, the better.
Durability
Your shoes' supportive elements can deteriorate with wear. When the tread pattern on your soles wears down, you will face challenges with gripping, which will impact your overall training session.
When the heel of your shoe shows excessive wear on one side than the other, it can cause your foot to shift or run unevenly. This can put extra pressure on your knees, causing it to pain as you have guessed.
The outsole and midsole material must be durable enough to last at least 500 miles, as that is what can be considered as a standard for running shoes.
But keep in mind that different materials are also made for different temperatures and running conditions. You cannot wear a road running shoe when performing trail running and expect it to enjoy its full life expectancy, the same for bad roads.
As for the midsole material, virtually all running shoes' midsoles are made from ethylene-vinyl acetate or EVA, which is a synthetic foam that provides a good balance between cushioning and energy return.
EVA gets softer when it is heated and stiffer when it is cooled. Hotter temperatures can affect the midsole durability as well as the EVA becomes softer than how it normally is, and this can increase the wear rate which is characterized by the midsole becoming stiffer. [3]
When the midsole becomes stiffer, it compromises its ability to absorb the heel strike shock, resulting in increased stress on your knee joint.
With new technology on the horizon, EVA foam's sensitivity to temperature may not be as much of a problem in the future. But given the history of running shoe companies making unsubstantiated claims about the technology in their shoes, I wouldn't get your hopes up.
When it comes to the outsole, the battle is mostly between EVA and rubber. Rubber is the most durable material, but it comes with cons, they are heavier than EVA, and this is a turn-off for runners who are looking for lighter shoes for flat surfaces like roads and track.
On the other hand, for more adventurous terrain runners, rubber is the go-to option.
Pronation
Pronation has to do with how much the arch of your foot collapses on impact and the degree to which this causes your ankle to roll inward when you run.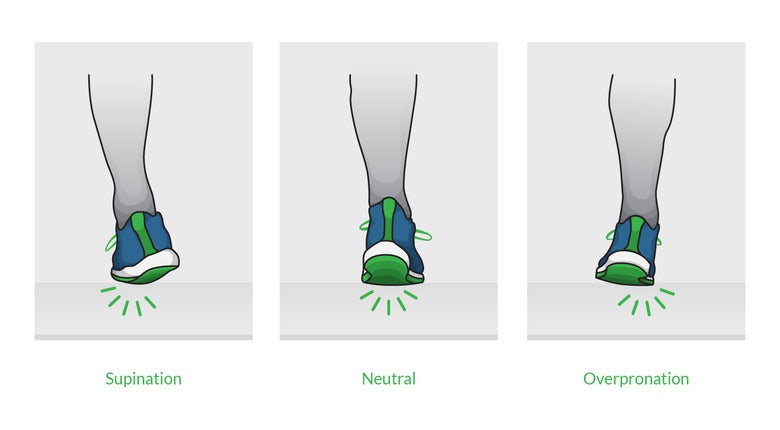 As your foot touches the ground when running, the arch of your foot naturally collapses to help your body absorb the shock of impact.
Pronation refers to the way your foot rolls inward for impact distribution upon landing.
Those who hit the ground at an increased angle with the outer side of the heel without rolling inward are called supinators or underpronators.
Then there's the neutral runner, which is the one whose foot lands on the outside of the heel then rolls inward to absorb shock and support body weight.
Lastly, there are the overpronators. Their foot lands on the outside f the heel then rolls inward excessively, transferring weight to the inner edge of the foot instead of the ball of the foot.
The big and second toes do the majority of the work when are to push-off.
For neutral runners and for those who supinate, they might consider choosing shoes with enough arch support for their needs.
Hence neutral runners are less likely to get injured, but they are not immune. While underpronators need shoes with good arch support and enough room for their feet to fit as well as enough toebox for the smaller toes.
Overpronators on the other side need shoes with added stability. Stability running shoes contain special features that prevent the ankle from rolling excessively inward, which can lead to potential pain and injury.
FAQ About Running Shoes For Knee Pain
Can your running shoes make your knees hurt?
Running on the wrong pair of shoes can make the experience very unpleasant. The wrong pair of shoes can lead not just to knee pain, but a series of other injuries such as shin splints, plantar fasciitis, bunions, heel spurs, ankle strain, and Achilles tendinitis.
It is always a good idea to match your running shoes according to your biomechanical condition to improve the chances of not suffering an injury.
What running shoes are best for knee pain?
In this article, I did a thorough round-up review for the shoes that I consider to be the best according to each need. But the one which I consider to be suitable for overall use is the Brooks Adrenaline GTS 20.
While for daily training as well as day-by-day use, I like the New Balance Men's Fresh Foam Roav V1 Sneaker the most.
But I do encourage you to go through all the sections of the article to find the one that suits your needs.
Why does my knee hurt when running?
If you never experienced knee pain before, poor running form is likely causing your knee to hurt. But a previous injury can also be the cause for your knee to hurt.
The Verdict
Running is healthy and beneficial. An activity that is intended to shape our health for the good must not turn into regret. It's important to put effort and time into proper diligence when it comes to selecting your running gear.
Shoes can indeed prevent you from getting injured.
But they need to be selected properly. Pay attention to your body conditions and characteristics to make a quality decision.
Every person is different in their build. But if you fall into the stats of the majority of the runners I do recommend Brooks Adrenaline GTS 20 for overall use. New Balance Men's Fresh Foam Roav V1 Sneaker is my other go-to option for daily training.
But always remember that no gear in the world can beat your improved biomechanics. Choose your shoe, but remember always to maintain proper form and improve your biomechanics.